Pop-up shops, student accommodation … ICUs. Two-bed prototype for a fraction of the cost of other options being built in coronavirus-hit Italy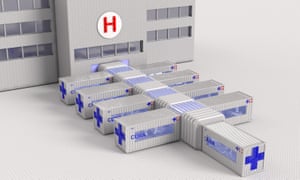 Architects have turned to shipping containers to make everything from pop-up shops to co-working spaces, and even teetering towers of student housing. But now the humble corrugated steel box might have found one of its most useful reincarnations yet, in the hands of an international network of architects and engineers who have come together to convert them into two-bed intensive care units for the coronavirus pandemic.
"A group of us started talking a week ago, wondering how could contribute our skills to this emergency," says Carlo Ratti, an Italian architect based in Boston, where he teaches at the Massachusetts Institute of Technology. "We all know there is a massive need for more intensive care units across the world, but there are problems with the two existing solutions – as an official report from the Chinese government found, based on their experience of the virus."
One current solution, he says, is to take a convention centre and fill it with lots of beds, creating a field hospital overnight, as is now planned for the ExCel centre in east London. There is efficiency in the numbers, but Chinese authorities found that problems were caused by the intense concentration of contaminated air, with the result that many more of the medical staff became infected. The second solution is prefabricated hospitals, kitted out with the full mechanical ventilation and negative pressure systems needed for bio-containment, but which take several months to complete.
"We thought, is there any way that you can get the speed of convention centre or tent hospital, mounted in a few hours or a couple of days," says Ratti, "but at the same time have something that is as safe as the prefab hospital?"