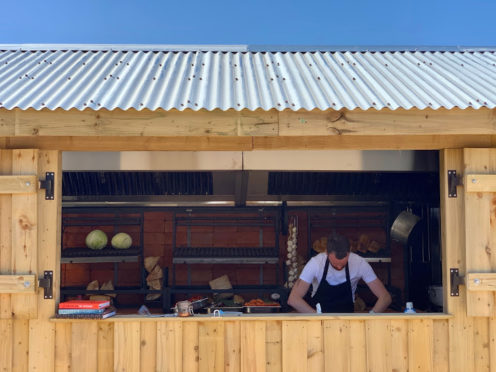 A Moray eatery has opened a makeshift cafe in converted shipping containers and a vintage Citroen van to survive the coronavirus lockdown.
The Bothy Bistro in Burghead was forced to close in March with the rest of the industry due to Covid-19 concerns.
However, despite its permanent premises being closed owners Ruth and Barry Scott have served more than 5,000 people in the last two weeks from Hopeman's West Beach Caravan Park.
The solution, which has been christened the Bootlegger's Bothy, has proved a popular solution to serving food to customers amid social distancing guidelines.
Mrs Scott said: "With the restaurant closed, it's been a challenging few months for all in our industry.
"When restrictions were imposed we knew the bistro in its current form wouldn't be viable until restrictions were completely lifted.
"This left us with two options – mothball the business or find a solution to the restrictions facing the industry."
Food on the menu has included crab and lobster landed in Hopeman as well as black pudding from the village butcher and mussels and scallops from Shetland.
The team have been serving Wednesdays to Sundays with the day's offering often gone ahead of its 6pm closing time.
Mr Scott said: "We have been so busy, people are queuing for more than an hour, especially on sunny evenings.
"We're delighted to be back doing what we love and will look forward to welcoming people from further afield when the time is right."
Article: https://www.pressandjournal.co.uk/fp/news/moray/2259206/bistro-in-moray-launches-kitchen-in-converted-shipping-containers-and-vintage-van-to-survive-lockdown/